08 Aug 2012
"We Would Love To Take Part" - Gary Kemp
A couple of great pieces of news coverage for 'Gold' today, with the Daily Mail quoting Gary about the Olympic Closing Ceremony, saying: "We would love to take part. If they asked we would jump at it. I am so proud of the team".
The original version of 'Gold' is currently at No.7 in the UK iTunes Rock Chart! Download here for just 59p!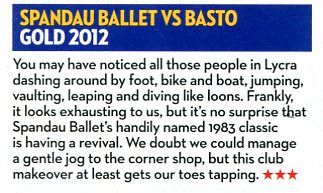 The Spandau Ballet Vs Basto Remix 'Gold 2012' has gone from No.20 to No.5 in the UK Upfront Dance Chart! Download here!