21 Feb 2012
'We Can Be Heroes' Event Tomorrow Night
Chris Sullivan and Graham Smith are doing another 'We Could Be Heroes' event tomorrow night in London.
There are a couple decks down there and Graham and Chris are encouraging people to dig out a couple of their favourite old records from the time, bring them down and play them, otherwise it will be Chris and Graham DJing. They will also be selling and signing books and Chris will be telling more of his ribald tales.
The event takes place at:
The Sun and 13 Cantons
21 Great Pulteney Street, Soho, W1F 9NG
Wednesday 22 February 2012
6.30 – 11.00pm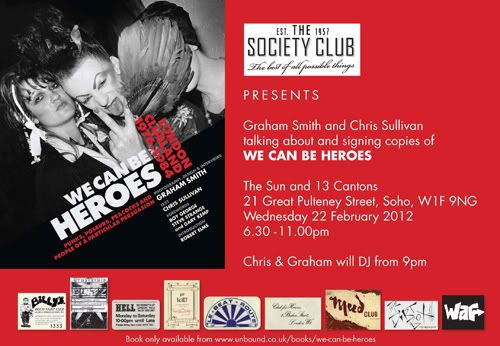 About the 'We Could Be Heroes' Book
Graham was an essential cog in Spandau's early pioneering days. He was the band's original graphic designer and was responsible for the initial performance posters and record sleeve designs. He also happened to capture those days on camera.
Chris Sullivan has written a brilliant and hilarious main text and Robert Elms has contributed an introduction. Our very own Gary Kemp has written a foreword along with Boy George and Steve Strange